NSU ends 14-year losing streak to McNeese, looks to keep Chief Caddo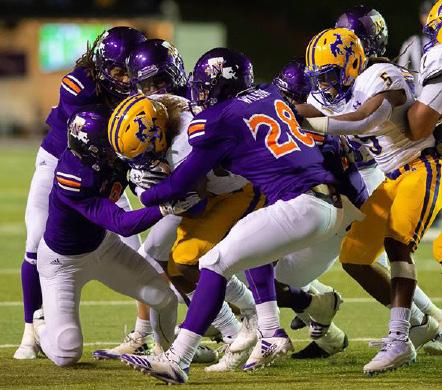 Northwestern State (4-6 overall, 3-5 in the Southland Conference) knocked off nationally-ranked McNeese (6-4 overall, 5-3 in the Southland Conference) 34-37 in a double overtime win this past weekend, ending a 14-year losing streak to the team. The last time the Demons beat McNeese was in 2004 and Head Coach Laird was the defensive coordinator on that 2004 squad.
Throughout the game, players on offense and defense made plays. Sophomore safety Hayden Bourgeois made a key field goal block to keep the Demons in the game. He knew at that moment he had to make a play.
"I just knew I had to make something happen," Bourgeois said. "I just squeeze[d] through and I got the block."
For Bourgeois, the key to the game was pressure.
"We came out bringing the pressure on the quarterback and we knew pressure was going get him rowdy," Bourgeois said. "They kind of figured it out and started getting the offense moving."
Winning close games like the Demons did over the weekend starts with practice and Bourgeois knew his team put in a lot of work at practice to make sure they got his win.
"We work hard at practice every day and Coach Laird told us 'this team is special for something and we made it happen tonight,'" Bourgeois said.
Junior wide receiver Jazz Ferguson broke a 50-year-old touchdown receptions record for a season, held by Al Phillips, with his game-winning touchdown.
"It really would have not meant a lot to me if we had lost this game. It would have been another record," said Ferguson.
"I passed a record last week and we lost so I really didn't pay no mind to it, but to win this game, to beat this team that who we have a huge rivalry with along with this record it felt like a lot."
Ferguson is getting some NFL buzz with his record-setting season, but he plans to come back next season.
"I want to play with these boys one more year," Ferguson said. "I want get this going and I just want to be happy with this team. I want to do everything next year the right way and how it was supposed to turn out this year and do it next year."
NSU goes on the road to take on Stephen F. Austin (2-7 overall, 2-6 in the Southland Conference) this Thursday.
Head Coach Brad Laird highlighted the importance of making sure the team keeps Chief Caddo on NSU's campus.
"Chief Caddo is going be in the locker room all week, that is the largest trophy in college football and what a rivalry this is," Laird said. "Throw records out the window. Whether it is a Thursday, Saturday afternoon or night game, it's always a special game, and we look forward to the opportunity on Thursday."
Photo by Chris Reich.