Edgar Cano: el artista que impacta a Natchitoches
Esta historia tiene traducción al español y al inglés. Puedes acceder a la traducción al español aquí.
Al entrar al estudio de Edgar Cano, puedes ver las pinturas y pinceles que usa dispersados en su mesa de trabajo. Puedes encontrar obras de pintura que te capturan con solo la primera vista, un desorden organizado que te atrae a sentarte en el medio del cuarto y admirar todo lo que te rodea.
Al entrar a su estudio, puedes ver su pasión. Cada detalle en sus cuadros te sorprende porque cuando te acercas encuentras algo nuevo que a lo lejos no puedes ver.
Cano describe su arte como una reflexión del individuo y sus efectos.
"Soy un artista de la figuración que representa simbólicamente elementos que muchas veces son desconectados o sin sentido. Pero que intentan hablar formalmente de una sociedad contemporánea y moderna," dijo Cano.
El empezó su carrera artística en Veracruz, México.
A través de una oportunidad extranjera, Cano llegó a Northwestern State University de Louisiana para conseguir su maestría en artes visuales.
Ahora, Cano continúa su carrera de artista visual mientras enseña cómo un profesor asistente en NSU.
"Creo que todos podemos ser artistas. Todos podemos llegar a un punto artístico en el trabajo que tengamos. Podemos elevar un poco más todo el oficio que desarrollemos, sea cual sea," dijo Cano.
Cuando habla de su arte, Cano es humilde en decir que la percepción de sus espectadores es lo que determina si él es un artista.
"Le corresponde más al espectador que cuando se enfrente en mi obra el diga oye pues no solo estoy viendo una pintura, si no que estoy viendo una pintura que genere un impacto emocional dentro de mi y que este impacto se perciba dentro de un esquema que es tangible," dijo Cano.
Cano aspira ser un artista en cada obra que él hace y simplemente espera que su arte se refleje e impacte a cualquiera que la mire.
Recientemente trabajó con Legacy Café haciendo un mural interactivo con la comunidad.
El expresó que embarcar en este proyecto le dio la oportunidad de expandir sus aspiraciones artísticas.
"Este proyecto me dejó bastantes beneficios prácticos, porque en este sentido practiqué la idea de expandir el dibujo, y expandir la pintura a una dimensión mayor" dijo Cano.
El mural está localizado detrás del jardín de Legacy Café y sirve para simbolizar la unidad de la comunidad.
"Solamente estoy agradecido con los organizadores del espacio por haberme permitido experimentar esta nueva versión de mi persona como artista, y al haber participado también del vínculo con las demás personas que eso fue lo más gratificante de todo," dijo Cano.
Cano va a embarcarse en una nueva etapa artística como miembro del Sistema Nacional de Creadores del Arte de FONCA (SNCA). Para saber más sobre Cano y ver su arte toca aquí.
Leave a Comment
About the Contributor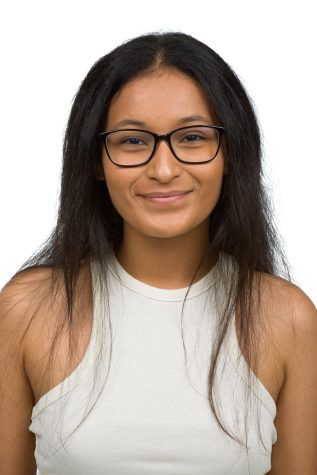 Lia Portillo Cantarero, The Current Sauce - Copy Editor
Hi, I'm Lia Portillo, a sophomore Communication major. I joined The Current Sauce two weeks after my first semester at NSU and have since been writing...