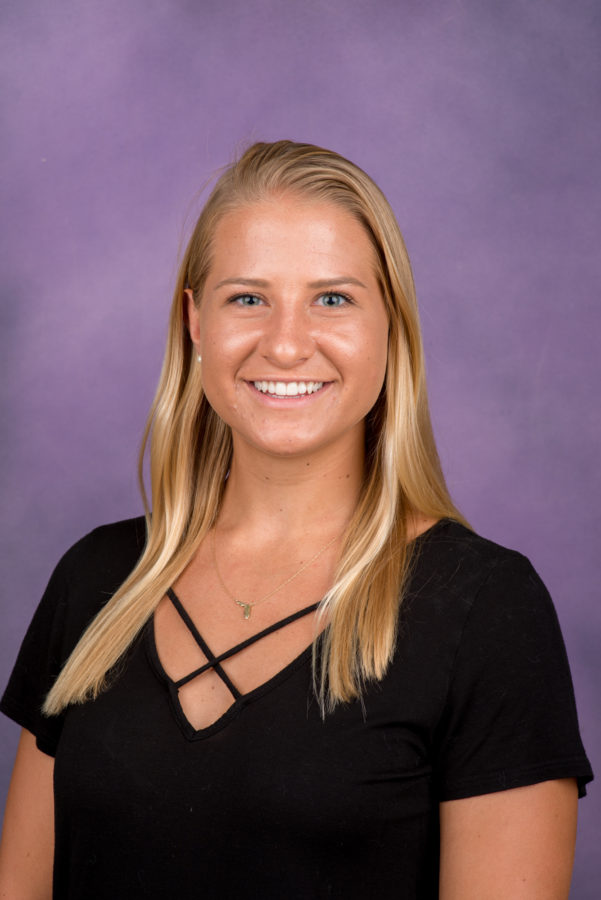 Goalkeeper Latham enters final season
Flying forward, a ball makes contact with gloved hands. Years of experience and training has led to quick instincts and cat-like reflexes. The crowd cheers at the stop and the home team lets out a sigh of relief, knowing their goalkeeper has their back.
Alex Latham is currently playing her fourth and final season as Northwestern State University's goalkeeper after an impressive 2016 season.
Latham received Southland Conference Goalkeeper of the Year honors, a spot on the All-Academic First Team and four-time Goalkeeper of the Week, just in her 2016 season. She was additionally placed on the 2017 preseason All-Southland Conference First Team.
Latham started her soccer career later than most of her teammates after trying her hand at almost every single sport.
"I randomly told my mom one day when I was 10 that I wanted to play soccer," she said.
"So I showed up to a competitive team tryout – not a recreational one where most people begin – asked if they were looking for any particular position, and they said they needed a goalie, so that's how I got started."
The Florida-raised athlete was searching for a new experience after graduating high school. Before signing with NSU, Latham looked at colleges in Florida, South Carolina, Texas and Louisiana.
"We were really lucky to sign her," said George Van Linder, head coach for soccer. "She was already playing at such a high level [and] we felt like she would feel comfortable playing here at NSU."
Latham said she chose NSU because she "clicked" more with the team compared to the other schools she toured.
"The people here were so nice and welcoming, and I liked the small town feel," she said. "I was really interested in going somewhere I didn't really know anyone and getting to know the people."
Latham's freshman year was a constant battle with the other goalkeepers on the team – something she said she was not quite used to. During the season, she was thrown into the starting goalkeeper position after the other goalkeepers were out due to injuries.
"Sometimes I felt like I didn't earn it, but during my sophomore year, I got my first real playing time. The other goalkeeper and I split every game; she would play the first half, and I would play the second half," Latham said.
It wasn't until her junior year that she was given the starting spot.
Latham is in charge of not just denying the other team's shots but also making sure the Demon defense is organized and that communication is maintained on the field.
"Knowing that your teammates trust you is the best feeling in the world. Knowing that if a ball gets by, they're like, 'We're working hard to get back, but Alex has got this; we're not worried about it,'" she said.
Latham and Van Linder both consider her to be a good role model on and off the field.
"I think she's someone NSU should be proud of: a great student in the classroom with a high grade point average, out there training year round and representing NSU," Van Linder said. "She is considered by a lot of the people in this part of the country as one of the top goalkeepers."
Van Linder said Latham tries to help younger goalkeepers by inspiring confidence since a bad day can sometimes lead to poor performance.
"I consider myself a lead-by-example type of person," she said. "I don't consider myself to be super vocal because I am in my head a lot… [but] I try to be really positive even if I am having a bad day."
While Latham tries to set a good example and help her fellow teammates, she finds her inspiration through her parents.
"My parents were always the first people to drive me where I needed to go. At the start of my sophomore year of high school I switched to a different competitive team to be seen more, but the team was an hour and a half away," Latham said. "So the fact that they were willing to drop everything to take me where I needed to go [and] they were always more than willing meant a lot."
Knowing that this is her last year upsets Latham, but representing NSU and playing soccer for the Lady Demons is "indescribable" for her.
"I'll probably be crying on Senior Night," she said.
"[Alex is] another shining light for NSU, and that's something we like about her. She's going to be one of those players that once she's gone we'll appreciate her even more," Van Linder said.
Watch Latham in action at the Demon Soccer Complex during home games. Visit nsudemons.com for the full athletic schedule.