Satire of the past brought to life
Dr. Elizabeth Cummins presented her lecture "Not Your Mummy's Memes: Humor and Politics in New Kingdom Art" at the Louisiana Scholars' College March 7. Not only did Cummins give her lecture on satire in Egyptian artifacts, but she joined in the directed study course on Cleopatra throughout the week.
Long-time friend and fellow academic Dr. T. Davina McClain assisted in bringing Cummins to Northwestern State. Eta Sigma Phi, the classics honor society on campus, applied for a grant through the Classical Association of the Middle West and South to help with the costs.
McClain, now associate professor of classics at NSU and secretary-treasurer of the southern section of the CAMWS, first met Cummins 23 years ago when she taught Latin at Loyola University in New Orleans.
"She's been part of my life ever since," Cummins said. "I look up to her and love her immensely."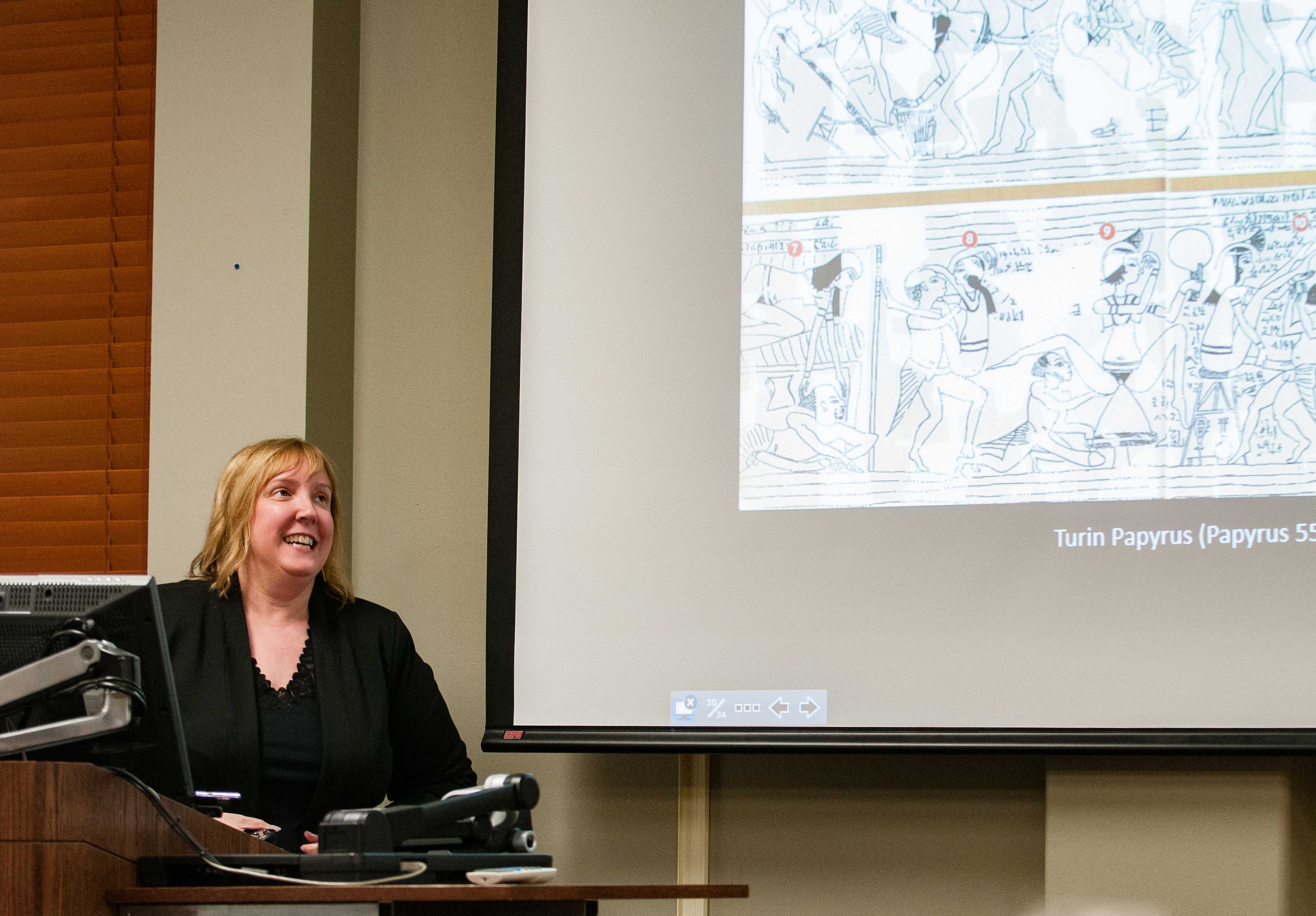 Since earning her bachelor's in English and classics from Loyola, Cummins received her museum certification from Tufts University in coordination with Harvard University, her master's degree in Egyptology from the University of Memphis, and her doctoral degree in art history from Emory University.
Cummins has worked with the American Research Center in Egypt and The Grand Egyptian Museum, living in Egypt for years before moving back to the U.S. during the Egyptian Revolution to finish her doctoral program.
She has also worked with the History Channel for the 2009 documentary "Sex in the Ancient World: Egypt" and recently signed a book deal with the American University of Cairo for her work, "Beds in Ancient Egypt: New Perspectives on Sex, Sleeping and Death."
With a room full of students, professors and community members, Cummins showed examples of what she believes to be satire used by Egyptian artists.
She admitted, however, that her path studying this has not been easy and doesn't come without questioning whether interpretations are correct. Cummins said she didn't originally think there was anything satirical about the ancient Egyptians because of their beliefs in the concept of ma'at – harmony and balance.
"Political satire does everything against that; it up-ends everything," she said.
It wasn't until she started digging that the Egyptologist came to her current disposition.
"Humor is a tough thing to study," Cummins said. "It's hard to kind of go back and figure out contextually what is actually funny and [figure out if] it meant the same things to them.
"I find that the most interesting images often come from what we call [informal images]," she said.
Cummins explained that the official record is what we see in tombs, whereas graffiti and sketches act as informal records. Artists didn't take as much liberty with the official record, but we start to see "jabs" at the elite and rulers of the time in ostraca – limestone chips used for drawing on.
"The power of images was something very, very special to the Egyptians," she said. "To have an image was to make it happen."
She highlighted the potential for these images of political satire to be an "underlying attempt to show resistance to authority" and connected political satire of the past to examples of political satire today.
Cummins and McClain agree that re-evaluating records and taking new lenses to academia is important, especially in areas that haven't been discussed as much.
"It's when you get into the non-canonical [and 'out-there'] things … that [you realize], 'Hey, this is really cool,'" McClain said.