Flavor of Louisiana spices up fundraising
Cajun spices, savory seafood and lively music greeted attendees walking into Prather Coliseum.
The second annual Flavor of Louisiana took place Friday night, with the proceeds benefiting NSU Foundation scholarships and different NSU colleges and departments.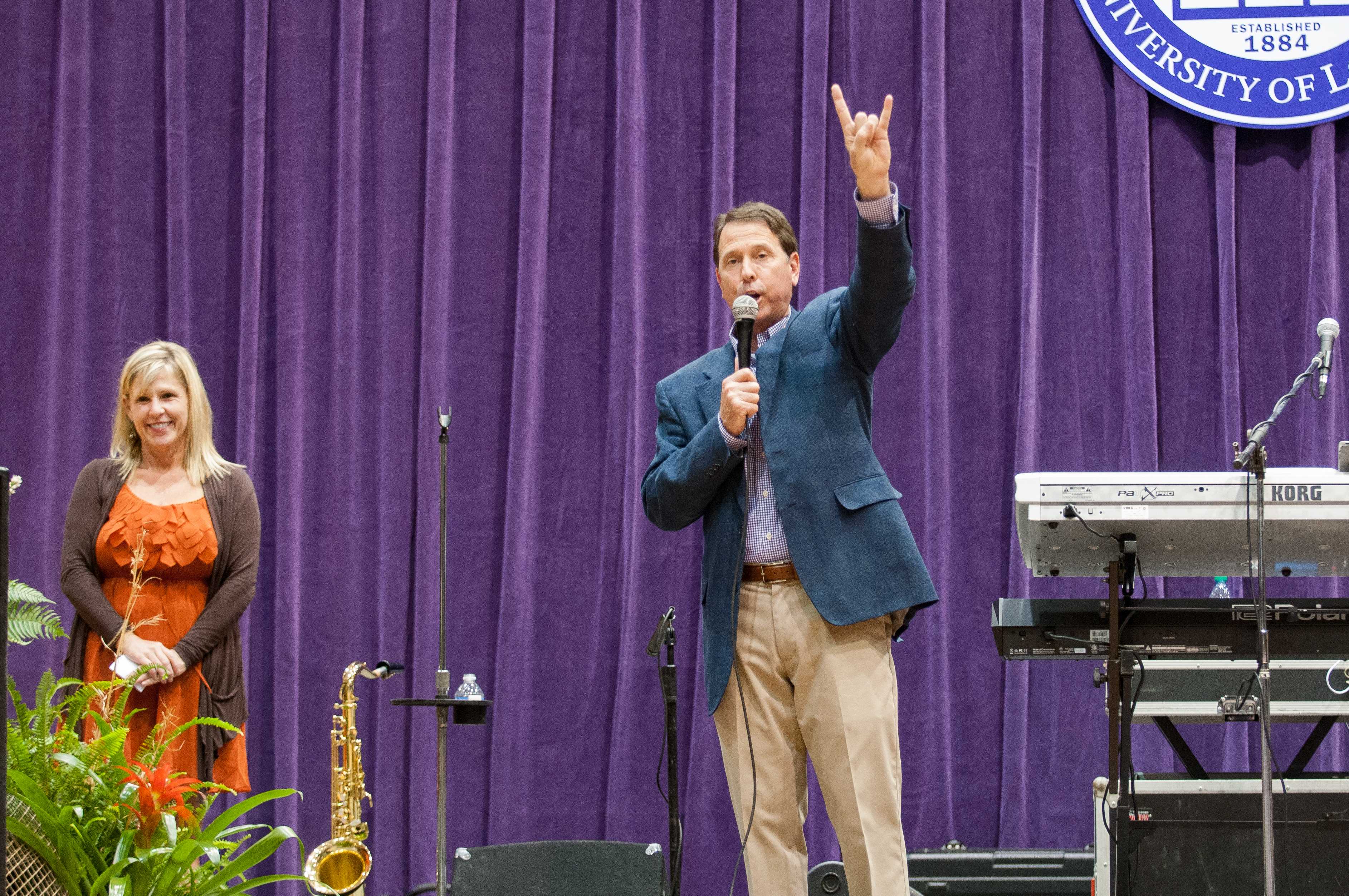 After last year's inaugural event, the NSU Alumni Center and the NSU Foundation decided to build on its success.
"We were thrilled with the success of last year's Flavor of Louisiana," said event coordinator Rebekah Burleson. "The guests mingled around the coliseum tasting delicious samples from the different chef stations and enjoyed music and dancing.
"It was one of the most successful community events we have hosted in recent years, with the goal of raising funds for student scholarships and academic programs."
Burleson explained the process of planning the event, which relies on help from other organizations.
"This event is so big it takes a lot of different departments, organizations and services on campus to pull it all together," she said. "We have mail-outs, radio shows, signage that needs to be designed and printed … and so much more."
Some of these organizations include the Hospitality, Management and Tourism students, the Louisiana Seafood Board that supplies all of the seafood at the event, and the chefs or vendors themselves.
Hunter Horton, volunteer event coordinator, is one of many volunteers helping with the event.
"We've been planning this for about two months," he said.
Horton explained that time plans were created to account for every second of the day leading up to the event.
Burleson credited the HMT students for playing "a large role in Flavor of Louisiana" because of their help with logistics and helping the event go on as planned.
"Two of our main challenges are space and electricity," she said.
The space issue comes into play because space is limited between the 30 chefs and bars, live music and hundreds of guests.
"Each chef needs to have access to an outlet in order to warm up their dishes that they are serving," Burleson said. "You can see where this would be a challenge, because Prather [Coliseum] is meant for athletics, not cooking events."
Louisiana Lieutenant Governor Billy Nungesser was one of many guests attending the event this year.
"This is a great way to show our support for the universities," he said. "[NSU] did a great job last year jumping out of the gate, and they have set the model for the rest of the state."
After the success of last year's event, Nungesser said other cities across the state started their own, and that Flavor of Louisiana "is important to Louisiana's future."
Flavor of Louisiana requires a lot of work, but any efforts to help fund scholarships are worth it.
"Before we even started the night, we raised about $50,000," NSU alumnus Wes Breeden said.
Breeden also added that proceeds from the event can go toward "projects that can help today."