Best-ever performances at Southland gives momentum to Track and Field
Capped by some of the teams' best-ever performances in the Southland Conference Indoor Championships, Demon Track and Field is set up to have a successful outdoor stint this spring.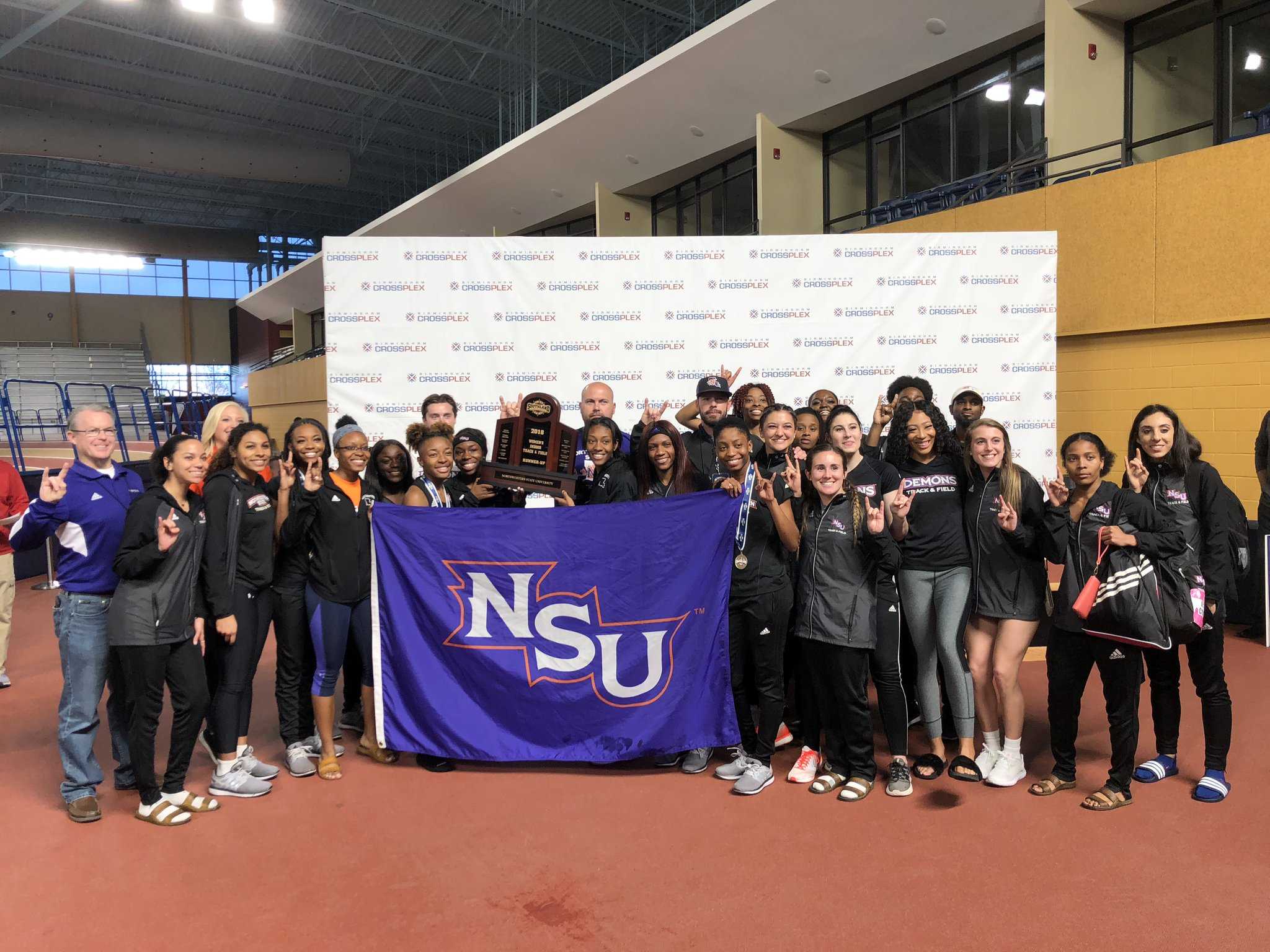 The women's second-place finish at the championships was the highest in history, according to the team's Twitter, and the men's rank was their best since 2003.
Reflecting on the Southland Indoors, Associate Head Coach Adam Penningtonsaid they were expecting to do well, but he was most proud of the team's drive despite adversity.
"The team kept fighting through the [4×400 relay] on the women's side," he said. "Even with the amount of injuries [the men] had, they just kept pushing and kept competing … Overall, the team did a great job of supporting one another."
Nationally, the men's team ranked sixth and ninth at the end of week six for the 60 meter and 200 meter dashes, respectively. Junior Micah Larkins' times currently lead the team on both charts with some of his career-best performances from the Pittsburg State Invitational in January.
Capturing the Women's High Point Award at the championships with 23.5 points was sophomore Natashia Jackson, who competed in four events. In a Feb. 22 press release, Head Coach Mike Heimerman called her the "best athlete to coach" after Southland Indoors.
"She never gets tired," he said.
Other high points of the championships include first-place finishes by Daeshon Gordon in the 60 meter hurdles and by De'Shalyn Jones, who achieved a new personal record in the 200 meter dash.
The teams have been taking it easy in practice leading up to the March 10 outdoor season kick-off at the McNeese Cowboy Relays. Pennington and Heimerman emphasized the athletes' health and schoolwork in the recess between indoor and outdoor meets, but team morale is "great" after their indoor season ended strong.
"They're just excited to finally get outdoors and be able to open up an outdoor meet," Pennington said, adding that most of the team is used to outdoor events since many high schools don't have indoor meets.
"Overall, we'll start going back into a … build stage for the first few weeks of outdoor," Heimerman said. "[We're] just trying to get in good enough shape to compete for a Conference title in May."