What the fork is there to do in Natchitoches?
Brianna Corley
Arts and Living Editor
Aside from tailgating and the big game, what exactly is there to do in Natchitoches on the weekend? Have no fear. Natchitoches has much more to provide than bright Christmas lights and purple pride.
Natchitoches Skating Rink
Located on Keyser Ave., the Natchitoches Skating Rink provides as much fun as it does entertainment. Gather up your friends and watch as the strong from the weak are separated for a hilarious time of falling down and learning to get back up again.
The rink is open on Saturday from 7 p.m. to 11 p.m. and Sunday from 4 p.m. to 9 p.m. with a fee of $8.
Country Lanes Bowling Center
Test out your skills against your friends for the ultimate title of bowling champ! Located at 5200 Highway 1, Country Lanes Bowling Center promises a night of friendly competition.
Operating hours are Monday and Thursday from 5 p.m. to 10 p.m., Friday from 5 p.m. to 11 p.m., Saturday from noon to midnight and Sunday from 2 p.m. from 10 p.m.
Open play is $5.90 per game, and rental shoes are $3.50 per pair.
If you want to experience glow bowling, go in from 10 p.m. to midnight on Saturday. The glow blowing charge is $16 and includes the $3 cover charge. There is a $3 cover charge if you do not bowl.
There is also a golf simulator in Country Lanes. Call Ken for reservations at 318-663-0292 from 10 a.m. to 4 p.m.
Pricing for the simulator is $30 for one player for one hour, $55 for two players for two hours and $100 for four players for four hours. Special time of 10 a.m. to 4 p.m. is $25.00 per player per hour.
Parkway Cinema 6
Want a movie night that isn't in someone's living room? Go out for popcorn at Parkway Cinema 6. Also making its home on Keyser Ave., this theater provides big time movies to Natchitoches. A standard ticket costs $8.75, but Parkway Cinema 6 also offers $5 Tuesdays!
Bayou Pierre Alligator Park
Take a true ride down the bayou at Natchitoches's own alligator park! An immersive experience including a show and café located on Old Bayou Pierre Road, make sure not to miss out as this season will close October 13 and not reopen until April.
The park is currently open on Saturday and Sunday from 10 a.m. to 5 p.m. Admission is $8.95.
Front Street
Saving the best for last, Front Street is always filled to the brim with excitement. Front Street is home to multiple restaurants and shops on the street, the Cane River Queen cruises and horse carriage tours through Cane River Carriage Company. Eat ice cream by the riverside and watch the ducks, listen for the sound of music drifting into the streets from live music vendors during sunset and maybe even venture to find its source. Also watch for festivals!
Cane River Queen cruises vary from a one-hour matinee cruise to a ninety-minute cruise.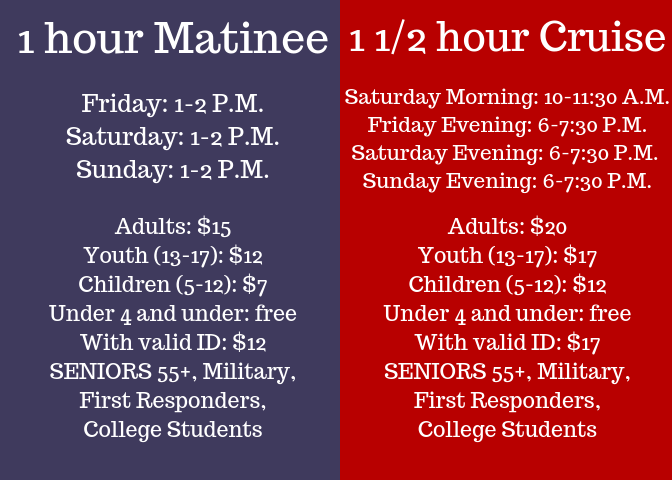 To experience a horse carriage tour, call ahead for tour times at 601-807-9086. Adults tickets are $15, and tickets for children under the age of 11 are $10.
Whether you prefer spending your nights supporting Demon athletics, choose to take advantage of the fun provided on this list or simply wish to stay in with friends, always remember the college experience is what you choose to make it!