Faculty Feature: Jamie Flanagan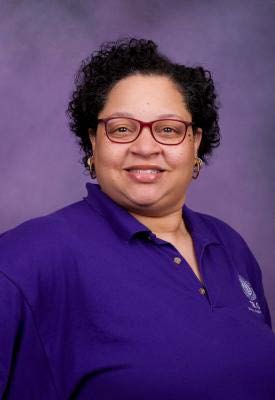 Finnley Plaster
Circulation Manager
Jamie Flanagan is a fun-loving person who loves singing, playing games, spending time with family and traveling, but she also knows when it's time to be serious too.
"When it's time to care of business, I'm gonna take care of business" she said.
Flanagan is the assistant director of TRiO Student Support Services, a program for low-income students, first-generation students and students with disabilities pursuing at least a bachelor's degree. It provides workshops, classes, resource libraries, a computer lab, cultural enrichment trips and academic advising.
"If I had someone saying, 'I have all of these resources and I want to give them to you for free,' I would have jumped on this had I known when I was an undergrad," Flanagan said, who has a bachelor's from Northwestern State University. "I just wish more students would really take full advantage of it."
Additionally, TRiO provides mentoring programs and a health initiative.
The primary focus of TRiO is academics, but it's not the only focus. "We understand that life happens," Flanagan said. "We look at the student in this department as a whole student. We don't just look at 'Oh, you have to get your grades.'"
Flanagan said students would describe her as goofy, firm and blunt.
"She pushes past her job," said senior Destiney Williams, one of Flanagan's students. "She pushes to make sure she meets everybody's needs. She also incorporates everybody, and she also makes sure nobody feels left out."
Flanagan is a "mother away from home," said senior Kam Campbell, another one of her students.
Flanagan was born in California and moved to Louisiana at a young age. Growing up, Flanagan recalls being surrounded by loving family members, including her parents, an older sister, two great grandmothers, three great aunts and a great uncle.
She attributes much of her early maturity to these influential figures, who "kept it real" with her and helped guide her down the right path even in tough situations.
Growing up, Flanagan faced many hardships, and she had to grow up fast in order to take care of her family.
"I had no room or time to cave in," Flanagan said. "I had to keep pushing because life was still happening regardless of my pain or my frustration."
She began working as an academic advisor in the early 2000s. In 2005 a position opened in the TRiO program, and she's been there ever since, helping students get the financial, physical, and emotional support they need.
Flanagan became TRiO's assistant director in 2014. In addition to her bachelor's degree, she has a master's degree in education and is on track to graduate with a doctorate in education in adult learningand development in May 2021.
TRiO, formed during the Lyndon B. Johnson presidency, has helped over 360 students this semester. As of last semester, students in TRiO have a graduation rate of 61%, while NSU's graduation rate is 45%.
Students interested in joining TRiO can pick up an application in Kyser 243 or download one from studentsupportservices.nsula.edu.
"People need to know that we're here," Flanagan said. "We're open to help, within the confines of our regulations, but even if we can't serve a student here, we will still help guide that student where they can receive the assistance that they need."
TRiO staffers want students to feel at home, Flanagan said. "We want them to know that they are loved and cared about and not just a student ID number."
TRiO even has a student organization, Helping Hands. They will be hosting the 20th Annual Black History Program: 20 Shades of Black on Tuesday, Feb. 18 in Magale Recital Hall. Doors open at 6 p.m., and the program starts at 6:30 p.m.