"The Journey: Where Our Paths May Go": an intricate song dedicated to President Jones
On Sep. 8, 2022, Northwestern State University of Louisiana's President, Marcus Jones, sat among the audience of the Wind Symphony's concert, "Around the World in 40 minutes Uniting us through Music," and witnessed a song dedicated to him retelling the paths he has taken to get to his current position.
Premiering his work, guest composer Charles Fernandez conducted the Wind Symphony and took the audiences through President Jones' higher education path.
"When I decided to do research for this piece, I decided I would use his educational history. His journey that got him here. From his hometown of Winnfield to Northwestern to Grambling to Southern and lining back up to Northwestern," Fernandez said.
Fernandez decided to use NSU's alma mater, Southern University and A&M's alma mater and Grambling State University's fight song. He also included original elements to the piece that would blend those different songs into a unique harmonious song.
"This piece is to honor the first African American president of this university. He has been in Louisiana most of his life, he has invested everything and has come full circle back to Northwestern State University," Fernandez said. "This is all in service and honor to Dr. Marcus Jones."
For Anthony Pursell, conductor of the Wind Symphony, being over this commissioning work was important. As a new hire, the opportunity to work on a piece as meaningful as this one with a former friend made him feel like he was contributing to a historic event.
"The thing that struck me about Dr. Jones the most was when I watched his interview with the presidential board introducing himself," Pursell said. "I thought to myself: not only do I want this job, but I want to work for this guy. He is everything that we talk about that we will do for students, he was one of those students."
Pursell said that he saw similarities between President Jones' upbringing and his own, which motivated him to take on this project.
"Because he has lived it, he is going to make sure students just like him and other students will be that person to expand the access even greater than it has been. It is walking the talk and talking the walk," Pursell said.
The most important aspect that both Fernandez and Pursell wanted to capture was President Jones's love and dedication to NSU.
The piece resembles a typical fanfare style with the traditional references to the fight song and alma maters, but the addition of Fernandez's original melody allows the woodwinds to smoothen the sound from the brass, Pursell said.
Unlike the other songs of the evening, this song had every instrument playing and no definite solo.
"To me, not one of those institutions stands on its own when it comes to Dr. Jones and his collective professional development," Pursell said. "Every institution is meaningful to him in some way, shape or form."
The concert piece ended with memorabilia given to President Jones.
Pursell wanted to thank the following national interfraternity music organizations at NSU that contributed financially to this piece: Kappa Kappa Psi, Tau Beta Sigma, Phi Mu Alpha and Sigma Alpha Iota.
Leave a Comment
About the Contributor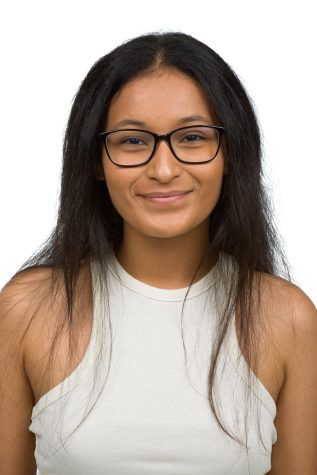 Lia Portillo Cantarero, The Current Sauce - Copy Editor
Hi, I'm Lia Portillo, a sophomore Communication major. I joined The Current Sauce two weeks after my first semester at NSU and have since been writing...