Yik Yak is creating a unique platform for college students across the nation
On the campus of Northwestern State University of Louisiana, as well as many other university campuses around the United States of America, the app Yik Yak has seen a significant increase in popularity.
Yik Yak is a social media platform in which users can anonymously post comments to all other users within a five-mile radius. Other users in your area are known as your "herd."
According to the Yik Yak company website, the purpose of the app is to allow users to have an open space to feel where they can feel comfortable being their true selves.
"Yik Yak is where communities are free to be authentic, equal, and empowered to connect with people nearby," the company website said. "We protect your privacy so that you can be authentic, privacy is always protected and only disclosed as required by and within the bounds of the law."
The app initially launched in 2013 but was shut down in 2017 due to a series of campus controversies. The app was relaunched in 2021 and is quickly regaining popularity. In 2017, Yik Yak had over 200 million users and as of 2021, the company released that it has well surpassed 2 million users.
Since previous controversies, Yik Yak has made efforts to prevent bullying on the platform. All comments that could be interpreted as harassment, abuse, defamation, public humiliation, or targeted hate are forbidden and will be removed.
Yik Yak is to create a space that protects users' mental health.
"We're here to share, laugh, learn, and connect. Our hope — our mental health mission — is that honesty on Yik Yak continues to promote the normalization of human beings sharing their struggles with mental illness," the company website said.
Bailey Moore, freshman integrative biology major at Southeastern Louisiana University, enjoys the authenticity of herself and users on the app.
"It's honestly just a broader range to get to know other people and the campus," Moore said. "I enjoy Yik Yak because it's something that anyone can do and can post anything about. It makes expressing myself easier because I'm not scared of what people will say or think of me."
Dylan Celeste, junior international trade and finance major at Louisiana State University, downloaded Yik Yak in Aug. 2021 during fraternity recruitment to see what all the rage was about.
"In my opinion, the purpose of Yik Yak is to bolster communication and unity among people in a community. I've seen it used on college campuses, high schools, places of employment, etcetera," Celeste said.
Celeste sees a variety of reasons the app is commonly used at LSU.
"My 'herd' posts everything. From concerns about professors, selling football tickets, gossip about specific people or Greek Life, and more, it all happened on the platform," Celeste said. "Yik Yak is the busiest during Greek Life recruitment, home football games, and when something notable occurs on campus, like Sister Cindy or something funny."
Comments on Yik Yak can only be seen by other users. However, on a college campus, the audience is only limited to the number of students enrolled at the university. At large schools, such as LSU, audience numbers up to 35,000 can see your comments.
Imani Swinton, a sophomore petroleum engineering major at University of Louisiana at Lafayette, believes the app is better than other platforms due to its wide range of audience.
"I wanted to see what events were occurring on campus and to ask questions with a wider audience than just my personal snapchat," Swinton said.
Claire Carnes, senior hospitality management and tourism major at Stephen F. Austin State University, enjoys Yik Yak's wide range audience for the useful ability to connect with those around you.
"Marketing wise, it's a great way to know the ins and outs of a new town," Carnes said.
A variety of subjects can be seen on Yik Yak based on location. Small towns typically do not see much usage, but busy areas see the highest usage on the app.
Isaac Vera, junior hospitality management and tourism major at University of Houston, thinks the most common reason for usage on Yik Yak is validation from those around you.
"People post on a diary-like secret holder platform and you can still like and comment on these posts and people need validation," Vera said.
Hope Young, senior elementary education major at Oklahoma State University, believes the anonymous feature is what draws people to download Yik Yak.
"The purpose of it is to share things anonymously whether good or bad. The things I most commonly see on there is Greek life and relationships," Young said.
Megan Bell, junior hospitality, tourism and geography major at St. Cloud State University, said that Yik Yak virtually connects people.
"It's a way for people to speak their own opinions about what is going on around them. It's not really a connecting app due to the anonymous nature but you are sometimes able to make connections to others through their comments," Bell said. " It does seem a place for people to just vent about anything and everything."
Haley Wiggins, sophomore communication major at NSU, uses Yik Yak to get information about what is currently going on around campus.
"Yik Yak is an interesting app to say the least. I see a lot of posts about classes that people are taking. When a car got broken into in columns, there were posts telling residents to go check to make sure their cars are locked," Wiggins said. "Yik Yak is a good way to get information, but it is also a way to just vent about your day to other students who understand."
At NSU, Yik Yak has an average of around 30 posts per hour. As the use of Yik Yak on campus has grown, so has the variety of comment topics. Students of NSU can vent and feel heard with Yik Yak and it only continues to grow.
Leave a Comment
About the Contributor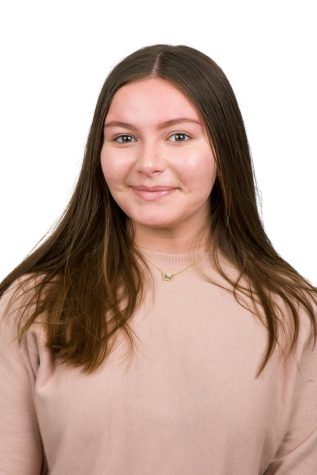 Nina Ovalle, The Current Sauce - News Editor
Hello, my name is Nina Ovalle. I am a sophomore Hospitality Management and Tourism major, and I have been involved with The Current Sauce for two semesters....