Football prepares for 2018 season
After finishing seventh in the Southland Conference standings last year, the NSU football team is gearing up for the 2018 season.
Since the end of last season, the Demons have undergone a series of transitions, starting at the top of the program with Brad Laird accepting the head coach position in November 2017.
Surrounding himself with "good people" is what allowed Laird to transition from defensive coordinator to head coach easier. These good people come in the form of his assistant coaches and his secretary, who "keeps [him] on track."
Senior offensive lineman Chris Zirkle described the transition as "smooth" but mentioned some players decided to discontinue their collegiate football careers.
"We've had a few people drop out due to what coaches have been asking for," the offensive lineman said.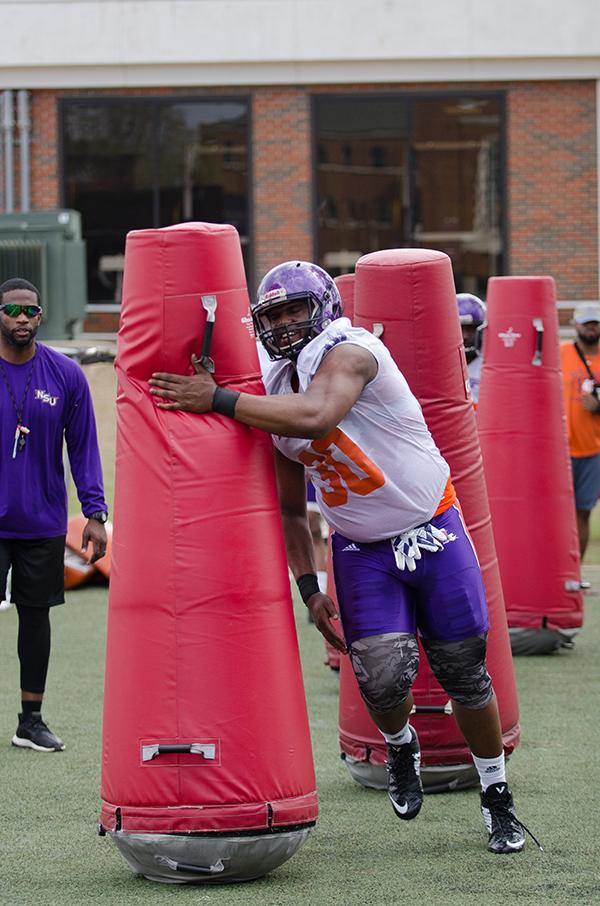 Despite the loss of some athletes, the new transfers from Trinity Valley Community College have been transitioning to Natchitoches and the team well, said junior safety Nicholas Forde of his new teammates.
Improvement and bettering the team is the main message Laird and his staff have been stressing to the Demons during their off-season.
"We focus on the now and not the past," he said in response to last season. "That's how we approach each day."
Though Laird's focus is on the here and now, players look to the accomplishments of past years for inspiration.
"We want to bring our best every day we're out on the field and bring tradition back to Natchitoches," Forde said.
The tradition Forde refers to is bringing in Southland Conference championships, just as teams in the past did.
"They were the top dogs of the Southland," Zirkle said.
To reach this goal, Laird and his staff stress the importance of becoming mentally tough, consistent and knowing how to face adversity.
The road to achieving this emphasizes the need to hold each player accountable not only during athletic training, but in the players' everyday lives. This includes making sure each player is going to class, finishing homework, dressing well and performing well on the field, Laird explained.
The Demons begin their 2018 season Aug. 30 against Texas A&M before returning to Harry S. Turpin Stadium in their quest to secure a Southland Conference title once again.