Fry swings into record books
As baseball enters the middle of their season, one member of the Northwestern State Demon Baseball team stands out as not only one of the best to play this year, but as one of the best to ever play at NSU.
Senior first baseman David Fry has been honored with numerous awards in his four-year NSU baseball career and is cementing his legacy as one of the best.
After the last series against Texas A&M – Corpus Christi, Fry is tied for second in career doubles (59), tied for fourth in career hit by pitches (34) and fifth in total bases (343).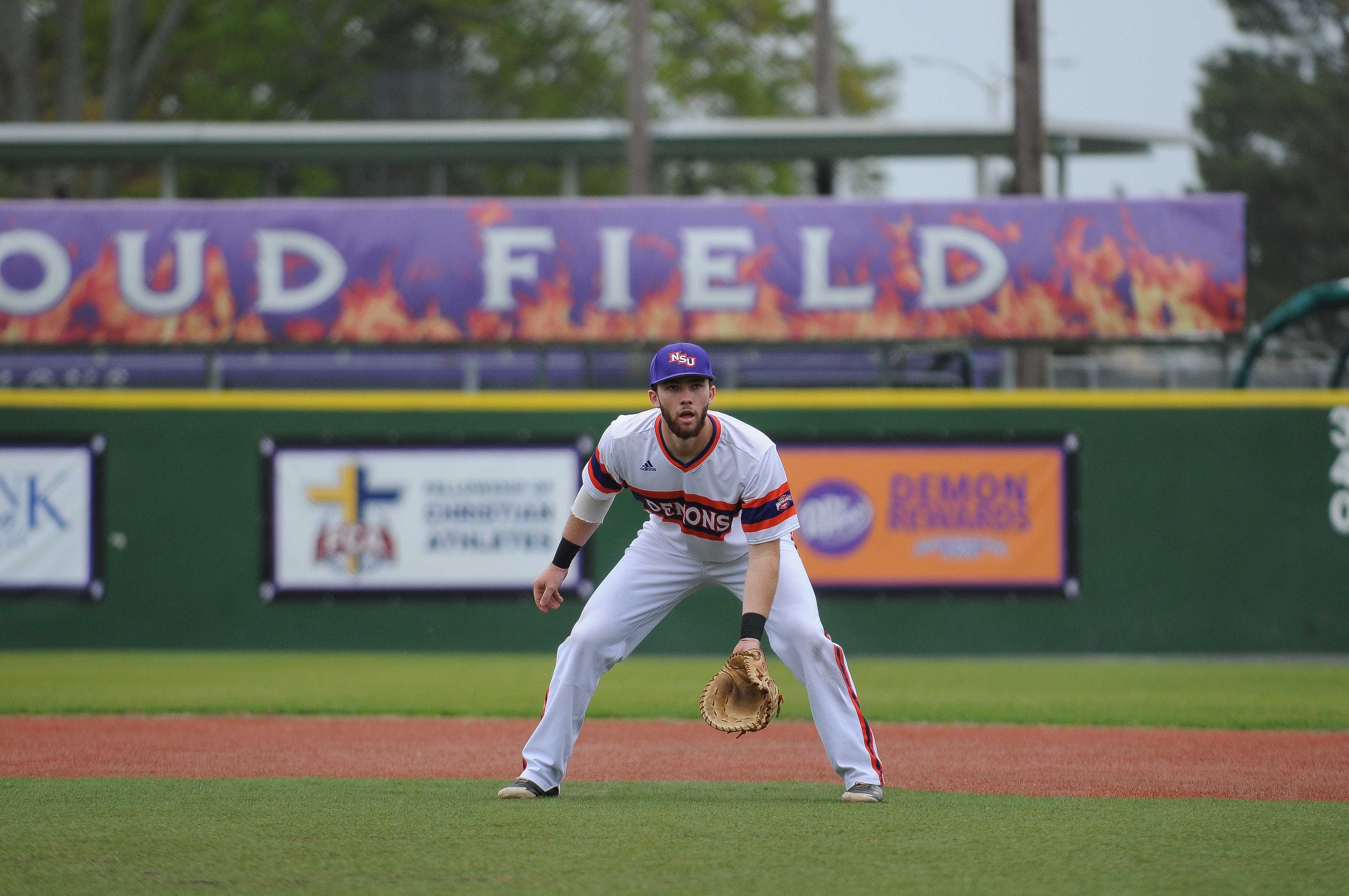 Fry has also tied for seventh in RBIs (119) and now eighth in home runs (23) after adding two last weekend.
The 2018 season has yet to reach its halfway point, and he is expected to tie other records.
For three straight seasons, Fry has been named in the second-team All-Southland Conference team and was awarded for his stellar start in the 2018 season with the Louisiana Sports Writers Association award as co-hitter in March.
His 21 doubles in the 2017 season are tied for second in NSU single-season history while his slugging percentage was the eighth-best in school single-season history. His total bases were tied for the 10th most by a Demon in a single season.
"Dave has produced ever since he's been a freshman on the team, and he's been getting better ever since," Head Coach Bobby Barbier said. "He deserves all the accolades.
"He's put in the time, he's put in the work, it couldn't have happened to a better guy."
Through all of the awards and approaching the cusp of breaking NSU records, Fry has managed to stay humble through it all.
"It's an honor to play every day and help the team win." Fry said. "If I break the records it happens but winning and playing for NSU is definitely the most important thing to me."
Teammates and coaches all agree that he brings more to the team than just accolades and personal accomplishments. They said he brings a sense of leadership and acts as a role model for all the other players to strive for on and off the field.
"He's outstanding," short stop and second baseman Sam Taylor said. "Everything he's done, he's worked for. He's the guy our team models to be. He gives us someone to look at. We always have confidence when he's at bat. We always feel like he'll do something to help the team win."
"He leads well, he leads by example," Barbier said. "When your best player is such a good leader, like he is, it always makes the team better. He's the reason for a lot of our success."
Fry and the rest of the Demons face Central Arkansas in a three game series March 29-31 and return home to play Stephen F. Austin April 6-8. A full schedule can be found at nsudemons.com