Women's basketball gives back, donates to St. Jude
On Feb. 24 in Prather Coliseum, Northwestern State University of Louisiana's Lady Demons Basketball Team hosted a "Fork Cancer" event to raise cancer awareness on campus.
Women's basketball accepted donations from members of the audience and raised 2,501$ towards St. Jude Children's Hospital.
Jordan Todd, a junior nursing major and center for the women's basketball team, speaks on the awareness that the "Fork Cancer" event was able to bring.
"It gives us a sense of compassion towards others," Todd said. "Sometimes we need to be reminded that there are other people out there struggling more than you."
Anna Nimz, women's basketball head coach, was proud to be a part of the cause.
"I love being able to use my position and platform as a collegiate coach to raise awareness," Nimz said. "The cause is near and dear to my heart and this will always be something I strive to raise money for."
Nimz played a major role in planning the event, making sure to involve the whole team in spreading awareness and meeting donation goals.
"I thought it was important to genuinely teach our players about the importance of giving and serving," Nimz said." "We did this by providing information as to what every donation would mean for a young child or for a family with a child suffering from cancer."
Nimz said her goal was to have everyone involved with NSU women's basketball on board and able to donate. Between the staff and student-athletes alone, women's basketball raised 831$ in donations.
"My overall goal for the day was to bring awareness and raise $2,000, and we surpassed that," Nimz said.
Alex Harrison, a junior biology major and forward for the women's basketball team, realized the importance of this cause and was happy to use her platform on campus to bring awareness.
"I feel very blessed to be a part of a program that supports such an important cause," Harrison said. "It really demonstrates the selflessness and kindness of everyone in the NSU community who donated, and I am so very proud to be part of such an amazing program and community."
Harrison said the donations help to see that people are bigger than just basketball.
"We have a voice and a platform to bring awareness to things that are bigger than we are," Harrison said.
Leave a Comment
About the Contributor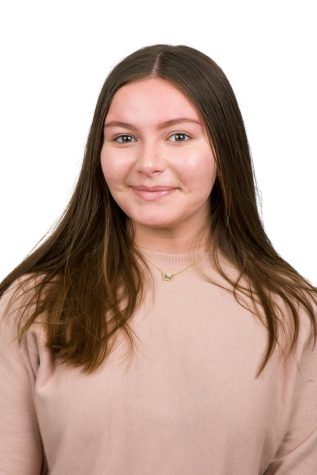 Nina Ovalle, The Current Sauce - News Editor
Hello, my name is Nina Ovalle. I am a sophomore Hospitality Management and Tourism major, and I have been involved with The Current Sauce for two semesters....