Latinx Success: Nick Taylor's path to journalism
Nick Taylor sits in his office chair in John S. Kyser room 225E listening to music and writing emails. He is an assistant professor for the Department of New Media, Journalism and Communication Arts.
If you ever wanted to find Taylor for a meeting, you will likely find him doing something else. As the advisor for the NSU TV News Service, Taylor bounces around from his office, from his classes and from aiding his students in producing news packages out in the community all day.
Taylor was born and raised in Rio Grande Valley, Texas. A community that is mostly Hispanic.
His mother is from Mexico, so Taylor grew up in a Mexican household.
"I didn't know I was being raised with Hispanic values," Taylor said. "It was just the way we lived. We had tacos for breakfast and had tortillas with every meal."
For Taylor, his values are grounded in family.
"Without my mother, my grandmother and my grandfather, there is no me," Taylor said.
But his upbringing was far from perfect.
"I got expelled from high school twice, and barely made it through high school," Taylor said. "I got kicked out of college, but my mom stood with me the whole time."
He then joined the Air Force, which changed the trajectory of his life.
"The Air Force taught me the discipline of academics and work," Taylor said. "I remember the first time I went to the Air Force and they put me in charge and I thought 'I'm going to fail.' But they didn't let me. I remember the first time I felt success and started recognizing what hard work could do for you."
Because of the military, Taylor now had the motivation and financial means to go to college, but he didn't know what he wanted to be.
The military asked him to declare a major, so he went to different academic departments at the University of Texas–Pan American, in search of a department that would accept him, he explains.
"I found journalism completely by accident," Taylor said.
After the department of business and criminal justice advised him against joining their department, he went to the journalism department.
"I stopped by in there and met a professor. He said you're not signing up for journalism, not until you know if you like it or not," Taylor said. "So he took me to his class, and did like Mr. Antilley does, and tells me that group is going to shoot the baseball practice and we recorded the practice."
A simple passion and act of caring led Taylor to find his love for sports journalism.
After completing his bachelor's degree, Taylor started his career as a sports journalist and moved to do documentary work and promotional videos.
"Then I got a letter in the mail one day that said you have seven months to utilize your military educational benefits or else they'll expire," Taylor said.
This led Taylor to look for graduate schools and programs. The next day, Taylor got a call from a friend asking him to do the journalism graduate program with her. After the two events happened back-to-back, he took it as a sign and joined the graduate program at University of Texas–Pan American.
"As I finished the program, the teacher in the department asked me to be a professor," Taylor said.
Taylor accepted the offer and vowed to do it for a year, but has since been aiding future journalists for 13 years.
"If I do this I want to be seen as equal as anyone in the university, so I got my doctorate at Texas A&M University – Kingsville."
Taylor recalled one of the most rewarding projects he did as a journalist. It was a promotional video that was meant to give the specific group funding for their program.
"The program was they would take these girls from junior high to high school and follow them. They were young girls who had bad grades and got in trouble. So they thought if we can get them more connected to their mothers we could turn their lives around," Taylor said.
An assignment that, once he started interviewing the girls and women about the program, felt flat.
"I was going out for about three or four weeks and nothing was really clicking. There was no emotion to it, it was very clinical," Taylor said. "So then I went over on a Saturday and started watching my B-roll and started seeing the mom brushing the daughter's hair and hugging."
He began to steer his focus from questions oriented strictly on the program to questions that spoke to the subjects, he explained.
"It's a small piece in my life but it was the one time that I said, 'you know what, I can do this for a living,'" Taylor said. "I've been fortunate to tell stories about people that we don't know about but are doing great things or helping change the world. "
As an advisor of the NSU TV News Service and the Hispanic Student Journalist Association, Taylor wants to continue that type of storytelling and influence that mindset in his students while allowing them to do real career work that they can use in the future.
At first glance, you can not tell that Taylor is Mexican-American.
"If I don't tell people they don't know. I don't look Mexican," Taylor said.
But that has never stopped him from engaging and connecting with his culture.
"You've got to be authentic and legitimate to yourself," Taylor said. "I'm proud of who I am and I know my background and my history, but I am not going to overdo it either. Be proud of who you are and be proud of what you have to give the world and that will shine through."
He advises others who want to connect with their roots to actively seek out those connections.
"That's why the Hispanic Student Journalists Association is important to me, because that is building those connections for people like me and other people who have been disconnected," Taylor said.
When given the chance to catch Taylor inside his office, ask him what his favorite Hispanic meal is. He will gladly go on about why Menudo and tamales make his day.
"There is nothing that's better than Menudo and tamales," he said.
Leave a Comment
About the Contributor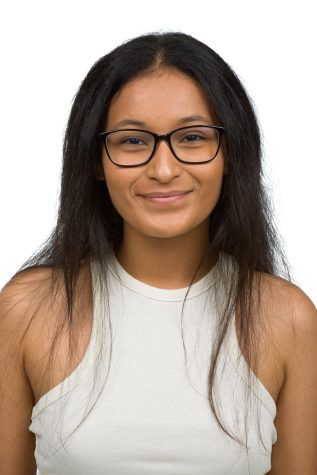 Lia Portillo Cantarero, The Current Sauce - Copy Editor
Hi, I'm Lia Portillo, a sophomore Communication major. I joined The Current Sauce two weeks after my first semester at NSU and have since been writing...