NSU spending less, but does not consume less electricity
Spending the least on utilities in the University of Louisiana System is Northwestern State University. The school has seen a consistent decrease in utility spending since 2014 based on UL System and NSU data.
NSU Physical Plant Director Dave Wohletz partly attributes this to widespread use of efficient LED lightbulbs outdoors. More than 350 of these were funded by a state grant in 2011; NSU then paid to replace the remaining outdoor fixtures with LED bulbs.
Other factors contributing to the downward trend include more efficient water heaters and coolers and greater climate control capabilities.
"We're still having some issues there," Wohletz says of indoor climate control. "It's a long ways to go yet, of getting these controls where we can regulate them in a [smaller temperature range]."
Wohletz says conservation is a "top priority" at NSU.
"Anything we can do on this end to cut down on energy consumption, we'll work toward," he says. When possible, the university replaces indoor fixtures' burned-out bulbs with LEDs.
NSU is the only university of the UL System's nine schools to experience four years of consistent decline in utility spending from 2014 to 2017, falling from $2.5 million in 2014 to less than $2.1 million in 2017.
UL System utility spending by fiscal year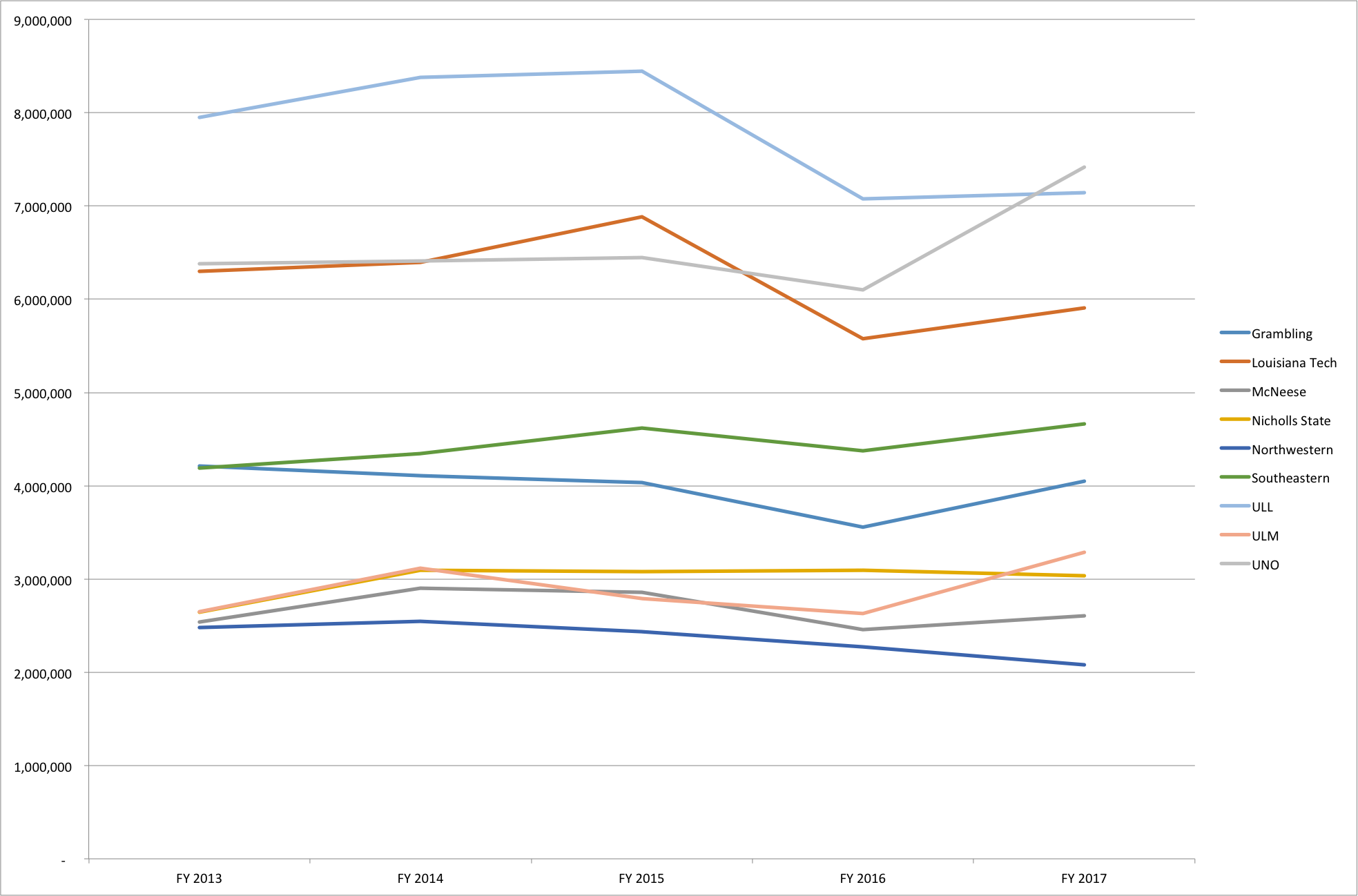 Campus population and size work against some schools, such as UL-Lafayette and Louisiana Tech, but both universities saw a significant decrease from 2015 to 2016: more than $1.1 million each. Interestingly, University of New Orleans had a sharp $1.3 million increase in 2017 from the previous year while its enrollment continued shrinking, leaping past ULL for the most spent.
Despite spending less each year on electricity since 2014, NSU's consumption has not shown the same downward trend.
Consumption has fluctuated between 27.2 million and 29.2 million kWh between 2014 and 2017, according to an energy report provided by the NSU Physical Plant. A dip in average unit cost allowed for spending to decrease while consumption increased from 2014 to 2016.
NSU did, however, come close to its spending and consumption record low in recent history in 2017. The Natchitoches campus consumed a total of 27.3 million kWh and spent $1.66 million that year, nearing the 2010 total of 26.7 million kWh and $1.55 million.
Another year of dwindling cost is likely based on the most recent energy report. This report, as of February, notes an average unit cost that's roughly 5 percent lower than last year, though consumption is slightly higher.