Video games are changing, and not for the better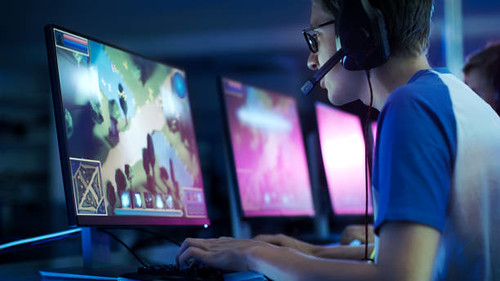 In a world where being online is a universe in itself, we can see how big of an impact global connectivity has had on humanity. Social media, online personas, simulations and, most importantly, games, have all been affected by the evolution of the internet.
Unfortunately, some aspects of the internet have changed things too much.
Online gaming has been a big factor in the entertainment industry, with every game nowadays having online access, or even being completely exclusive to an internet connection. This is all a far cry from the traditional style of games, where you experienced a game almost completely alone. But where did it all begin?
The online gaming community is a new but very popular aspect added to games and gaming consoles since the invention of the internet. Looking back to the first computer games in 1956 ( NIMROD), we saw a game limited to one or two players max at a single computer, only able to run that game alone.
A few decades later saw the invention of dial-up, or leased telephone lines allowing remote access to computers where "host-based games" became popular. This was where users connected to a remote server to play single or multiplayer games. Local area networks allowed Ethernet connections, and finally, the internet was created on January 1st, 1983. The evolution of online gaming runs parallel to the creation and evolution of the internet.
This information leads us to question two fundamental ideas, online gaming versus the old-school single-player style of games.
Online multiplayer gaming should be an option for all modern games, but there should there be a clear and obvious line between the two. A distinct disconnect between online and individual play. Everything is better experienced with friends, but I want the option to enjoy a game alone, to explore the story and the world created by myself before I jump into a battle royale.
The hit game, "The Legend of Zelda Breath of the Wild," threw modern-day online gamers for a loop with its traditional fresh feel single-player game when it was released in 2016 on the then-new, gaming console, the Nintendo Switch. Being a linear storyline role-player game, "Breath of the Wild" was a long-awaited treat to fans who had been looking forward to an addition to the age-old franchise.
Another similar situation occurred when the online community got obsessed with the fresh game, "Fortnite," released in 2017, capturing the attention of all battle royale sandbox game lovers alongside a great online gaming aspect.
These two games are almost exact polar opposites, so let's compare the fundamental ideas being showcased through them.
Nintendo has done a great job staying loyal to its franchisees, and "The Legend of Zelda" is a great example of what a traditional game can be in the modern world. Meanwhile, "Fortnite" is a perfect example of how great online gaming can be.
"Fortnite" is the epitome of the future of technology and global connectivity. The ability of technology to stream and pull data from nearly anywhere in the world at the exact same moment as another machine thousands of miles away, and still have seamless interconnectivity and gameplay- is simply astonishing.
But the graphics and quality of gameplay were set at a new high with "Breath of the Wild," being a perfect example of an open-world role-playing game with amazing animation styles and design. The lighting and render quality of the game was something long-awaited but also expected of such a high-tier company like Nintendo.
Despite this, there are always two types of people in each situation. First, the people who wish there was an option for either online access or single-player modes. For "Fortnite," many potential new players like myself shied away from the forced online gameplay, having no option for a single-player unless it was in a loading arena. I did not want to debut my terrible first-person shooter skills on a worldwide stage for everyone to see.
On the flip side, some people who enjoyed "Breath of the Wild" quickly found themselves wishing for more. Maybe a bigger world was unrealistic, and more content was given but only so much can go before you are unsatisfied again. The next best conclusion found people wondering what the first official "Legend of Zelda" game would be like with an online multiplayer option available. We can see the characters of the franchise in other Nintendo games like "Mario Kart" and "Super Smash Brothers," but that is nowhere close to the style of gameplay the Legend of Zelda actually is.
Some can barely imagine a "Legend of Zelda" game with such an option available. How many Links could you have on one screen before you became extremely confused as to who was who? Some games simply aren't made to be put into that sort of platform.
Of course, this same logic applies to the other side. "Fortnite" was not designed to have such an option, it does not tell such a story in the way that a single-player game could actually be entertaining. It bargains all of its resources on the worldwide arenas and battles rather than the limited world of a storyline, and that is perfectly fine.
But I argue here that not every game needs to be online, or have such options available. I also vouch for the inclusion of offline content on all modern-day games, no matter the style of the game. Even a training arena, or guided, extensive tutorial would be better than being forced to play player versus player to simply be in the game.
In the end, game developers will sell what they think will make the most money, and will not provide options for niche options like my own, but I can guarantee more engagement with content if such entertainment as a storyline were to be included in most present-day online multiplayer games; more than five minute YouTube videos as well (I'm looking at you, "Overwatch").
The internet has been both a blessing and a curse, and this generation knows it best. Most of us grew up with the internet at our fingertips, only a flip phone away. But we must understand when to disconnect and simply enjoy the creativity of the numerous amazing games at our disposal, without the pressure of nonstop competition, without the distraction of an entire world to connect with. I now encourage you to find a game of your choice that has an "offline" mode and enjoy a single-player experience alone. It will surely reconnect you with the roots of video gaming.
Leave a Comment