Edgar Cano: the artist impacting Natchitoches
This story has a Spanish and English translation. You can access the Spanish translation here.
When entering Edgar Cano's studio, you can see all of the paints and paintbrushes he uses scattered on his work table. You can see his paintings that capture you at first sight, an organized mess that lures you to sit at the center of the room and admire everything that surrounds you.
When entering his studio, you can see his passion. Every detail that he has put onto his paintings surprises you as the closer you look the more you encounter something that could never be seen at a distance.
Cano describes his art as a reflection of the individual and its effects.
"I am an artist of the figuration that symbolically represents elements that often are disconnected or don't make sense. But that tries to formally talk about a contemporary and modern society," Cano said.
Cano began his artistic career in Veracruz, Mexico.
Through a foreign opportunity, Cano came to Northwestern State University of Louisiana to obtain a master's in visual arts.
Now, Cano continues his visual arts career while teaching as an assistant professor at NSU.
"I believe that all of us can be artists. We can all achieve an artistic aspect in the work that we do. We can elevate our job by developing just a little more," Cano said.
When talking about his art, Cano stated that the perception of his spectators is what determines if he's an artist.
"It corresponds more to the spectator when encountered with my work to say, wow I am not only looking at a painting, but I am looking at a painting that generates an emotional impact inside of me and that impact perceives a scheme of tangibility inside," Cano said.
Cano aspires to be an artist in every artwork that he does and simply hopes that his art reflects and impacts anyone that sees it.
Recently, Cano worked with the Legacy Cafe by making an interactive mural for the community.
He expressed that embarking on this project gave him the opportunity of expanding his artistic aspirations.
"This project left me with a lot of practical benefits, in this sense I practiced the idea of expanding the drawing and expanding the painting into a larger dimension," Cano said.
The mural is located behind the garden and serves to symbolize the unity of the community.
"I'm just thankful with the organizers of the space for allowing me to experiment in this new version of my person as an artist, and by participating have gained bonds with the rest of the people involved which was the most gratifying part of it all," Cano said.
Cano will embark on a new stage of his artistic journey by being a member of the National System of Art Creators of FONCA (SNCA). To know more about Cano and see his art click here.
View Comments (1)
About the Writer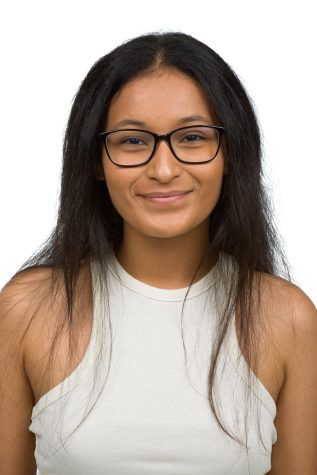 Lia Portillo Cantarero, The Current Sauce - Copy Editor
Hi, I'm Lia Portillo, a sophomore Communication major. I joined The Current Sauce two weeks after my first semester at NSU and have since been writing...